Gangtok, Sikkim Trip for 5 Days – Save Yourself From the Scorching Heat Of May
Gangtok, Sikkim Trip for 5 Days – Save Yourself From the Scorching Heat Of May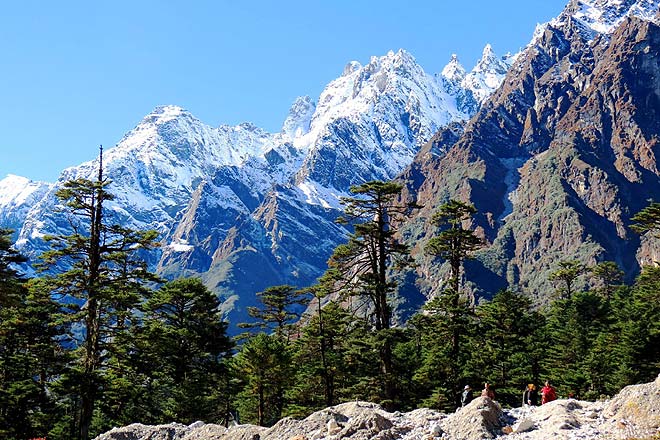 Sikkim has tropical, alpine and temperate weather conditions due to its variety in its demographics. It also is the most humid region in the Himalayas.
The summer season lasts in India generally lasts from May to October. In Sikkim the months of March and early June that Sikkim gets abundant sunshine. The position of Gangtok is such that you can expect little showers throughout the year. The maximum temperature during the peak summer seasons would be around 28 degree Celsius. Higher up you can expect temperatures as low as 14 degree Celsius. The weather is extremely pleasant and that is what makes Sikkim one of the most visited summer destination.
The summer gets very hot throughout India and some places have temperatures as high as 40 degree Celsius. This unbearable heat is the main reason, the hilly regions are crowded with tourists who come here to escape the scorching heat of the May.
Why Sikkim in Summer?
Out of many hill stations in India why is Sikkim among the popular destinations is a frequently raised query among travelers. It is a coincidence that summer is also the best season to visit Sikkim due to multiple reasons:
The average temperature in summers here is between 13C to 18C.
You might feel some heat but the cool breeze from the Himalayas neutralizes the heat.
An ideal time of the year to have trekking activities in Sikkim.
Clear view of the majestic and beautiful Mt. Kanchenjunga.
Ideal for adventure sports like mountaineering, kayaking, mountain biking, river rafting and few others.
The glacier lakes are no longer frozen which provides the ideal reason to visit them.
Sikkim gets very beautiful during the summers and nature lovers can enjoy radiating and blossoming of rhododendrons and orchids in Sikkim. There are also various events and festivals which are organized by the state during summers to attract tourists. The event showcases the history and rich culture of the beautiful Sikkim.
View. #sikkim #india #northeast #mountains #snow #himalayas #summer #incredibleindia #trav… http://t.co/Dmmov0aBaD pic.twitter.com/Ikkyzl7q5g

— Varun Vasisht (@_varunvasisht_) July 8, 2015
Eastern India Holidays – A tour and travel agency in Siliguri can provide you an economic Sikkim, Darjeeling Gangtok package which should perfectly suit your needs for a summer break.
Sikkim Trip for 5 Days- Escape Summer, Discover Wonders
Day 1:
Arriving at Bagdogra Airport– You shall first have to reach Siliguri which is the Gateway to Sikkim. From here you can hire Eastern India Holidays's Taxi services in Siliguri and get a comfortable car drop till Gangtok, the capital and the hub of Sikkim. The total distance is 153 km and you should reach Gangtok after a long 5-hour drive.
Reaching Gangtok: After you reach Gangtok, you can check in to your hotel, freshen up and as you shall only reach Gangtok in the evening, you could spend rest of the day just hoping the paved way of M.G Marg which is the meeting point of the local people.
Day 2 Trip :
Visiting the Tsomgo lake: You can start the day by visiting the Tsomgo lake which is rich in natural beauty. It is an hour drive from Gangtok and 12300 ft above sea level. It is a wonderland and you could spend some time with the beautiful nature and breath in some fresh air which is hard to find nowadays. There is an option of Yak ride which you would scarcely find anywhere else on earth.
Visiting the Baba Mandir: Higher up, you can stop to visit the famous Baba Mandir which has an interesting history behind its creation. The temple is in memory of an army person named Harbhajan Singh who lost his life here but was seen guarding the border by his fellow soldiers, even after his death. It is an amazing destination which must be covered during your Sikkim visit.
You can end the day by visiting the Elephant Lake at the altitude of 14000 ft.
Day 3 Trip:
Head to Lachung: You can head to Lachung which takes around 6 hours to reach. Have a detailed visit around Lachung and also visit few local residents called Lachungpas who are expected to be very friendly to tourists.
Visit Yumthang valley: Spend rest of the day visiting the valley of beautiful flowers. The valley has a wide range of Rhododendron which must be seen and there is also a hot water spring here you cannot miss.
If you have time, you can have a quick drive to Zero points also. It is the most visited point in Yumthang which has extremely cold temperatures throughout the year. And provides best scenes to click your new profile picture on your social media account.
Day 4 Trip:
Take the ropeway: Do not afford to miss the beautiful view of the capital when you take the adventure ropeway ride in Gangtok.
Visit Enchey monastery: Visit the oldest monastery around and offer prayers and you can also sink in the peaceful atmosphere here.
Before heading back to your hotel you can travel to Hanuman Tok, which provides a beautiful view of Gangtok.
Day 5 Trip :
Handicraft center: Before leaving for Bagdogra to catch your flight, have a visit to the Handicraft center where you may find attractive local souvenirs to be taken back from Sikkim.
Head back to Bagdogra and end your summer break with magical Sikkim experience.
The beauty is Sikkim is too vast to be fully covered in a span of 5 days but it is the best option to spent your summer holidays in Sikkim. Sikkim has hugely gained a reputation as a good summer escape destination due to its natural beauty which has been well managed and been kept untouched with effective sustainable development.
Summary
Article Name
Gangtok, Sikkim Trip for 5 Days - Save Yourself From the Scorching Heat Of May
Description
Spend your summer vacation in Sikkim and save yourself from the scorching heat of may and June in India. A detailed plan on Sikkim trip for 5 days From Eastern India Holidays. Take a look and beat the heat of this summer.
Author
Publisher Name
Publisher Logo