A Trip To Nathula Pass – A Part of the Ancient Silk Route
A Trip To Nathula Pass – A Part of the Ancient Silk Route
It is a mountain pass and also an Indo China Border but was once an active route of trade between Tibet and India.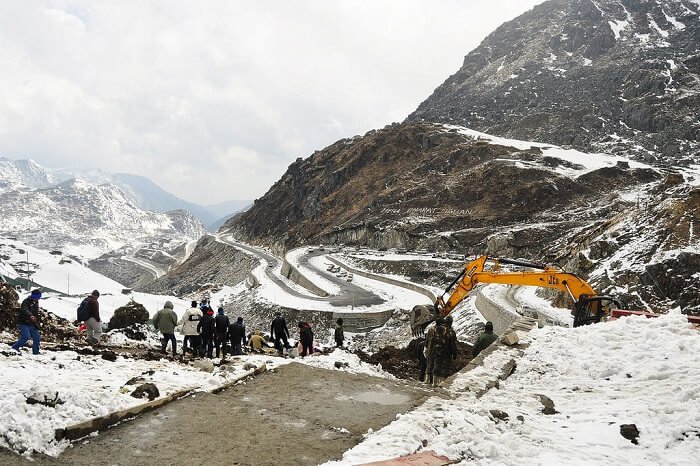 Nathula is a Himalayan mountain pass which is in the eastern district of Sikkim. Its altitude is around 14,140 feet and its height may also cause breathing problems to some visitors due to its lack of oxygen. It lies at a distance of 56 km from the city of Gangtok. This pass was once the place through which the famous Silk Route operated until 1962.
Amazingly on your trip to Nathula Pass, you shall come to a place called The which has an ATM which operates under such unbelievable conditions. This ATM is the highest altitude ATM in the world which operates with the help of a generator, which runs on special fuel which does not freeze.
Best time to visit Nathula Pass
The winters here are extreme and can reach a temperature can drop to around -25 c. You can travel to Nathula pass during the winters if you love to play with snow but you must make sure to put on necessary garments to keep yourself warm.
The favorable and the best time to visit Nathula Pass would be from May to October when the temperatures revolve around 10 c.
Nathula Pass Weather
The summers here which generally extend from May to October can have temperatures which vary from 10 c to a maximum of 20 c, which still requires warm garments to be taken along. The mountains are green and without snow during the month of September.
The winters are extreme and can reach temperatures of -25 c. The winters here starts from November and lasts until the ides of March. Traveling during winters require heavy snow boots and gears.
Nathula Pass Visiting Days
If you are considering Nathula pass trip then you have to know that the Pass remains open throughout the year and even allows Indian tourists during snows. It must be noted that the Nathula Pass is open for only five days a week. It remains shut on Mondays and Tuesdays. You can visit the Pass on other days after obtaining a valid pass from the necessary authority.
Nathula Pass Trip Permit Cost
The Sikkim Tourism Department Gangtok takes care of the permits, which are needed to visit Nathula Pass. You can also receive a permit with a valid I.D proof and two passport size photos. If you have taken a Sikkim Gangtok package, you can take the help of Eastern India Holidays in Siliguri as we are registered with the tourism department of Sikkim for Sikkim holidays & tour. You may also ask your hotel owners to help you.
The pass isn't issued to children below 4 years due to climate reasons and the cost of permit amounts to Rs. 200 per person.
How to reach Nathula Pass
If you are traveling from within India you can plan your Nathula Trip without problems as the foreign guests are barred from visiting Nathula Pass due to security problems. Firstly you have to make provisions to reach Gangtok first. The capital of Sikkim is the gateway to Nathula Pass. Here are few ways to reach Gangtok:
By AIR: The nearest airport is Bagdogra where you have flights from major cities across India. After you reach Bagdogra it is a 126 km journey from here till Gangtok, the capital of Sikkim. You can have hired taxi or cab to reach you by road which roughly takes 4.5 hours to reach Gangtok if there are no traffic issues on the highway.
By RAIL: The nearest railway station would be New Jalpaiguri Railway Station which has trains coming in from all around India. It is well connected to major cities of India. From the station, it is around 114 km and roughly 4.5 hours road trip to Gangtok
After reaching Gangtok:
Nathula Pass requires passes or permits to visit it which is issued by any registered travel agent. The distance from Gangtok to Nathula Pass is around 56 km which can be covered by car hire in Siliguri or Gangtok.
Some of the beautiful tourist attraction on the way to Nathula Pass
1. Baba Harbhajan Singh Mandir – It is a shrine built in memory of an India Army personnel who died in Nathula in the year 1968. The Temple is special and popular among the tourist due to its rich history and belief which says that the soldier Baba Harbhajan Singh even after 50 years guards the Indo China border. Some soldiers have also mentioned seeing Baba Harbhajan along the border, guarding the borders with precision. The facts are unclear but the story itself is fascinating and so it drives tourist here from all over India.
2. Tsomgo lake – The Lake is also known as Changu Lake is a high altitude lake which is situated on the way to Nathula. The lake remains frozen during the winters and during the summers the nearby scenery is beautifully reflected in its clear water making it a beautiful scene which cannot be described in words.
3. Stairway to the Border– The road to Nathula ends with a staircase which takes you to the fence which is the Indo China border, which remains peaceful on both sides.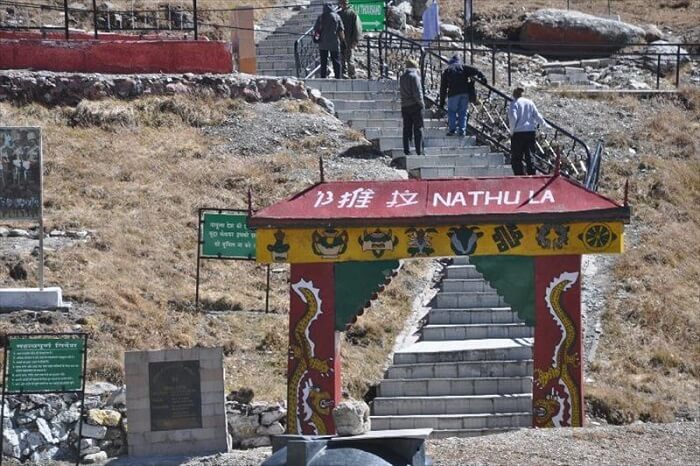 Here are some Instagram handlers who have visited Nathula Pass recently
deepsikhadutta__ who writes "I wonder if the snow loves the trees and fields, that it kisses them so gently?
The snowy Nathula pass has been a hot favorite destination for tourist during the summers. The place has extreme temperatures yet the things we get to see here have adapted to its situations so beautifully. The reflection of the mountains on the crystal clear icy water of the Changu Lake, the White snow-capped mountains and the Indo-China border make it a journey which serves many aspects of a perfect vacation at once. You should visit it once in your lifetime.
Summary
Article Name
A Trip To Nathula Pass – A Part of the Ancient Silk Route
Description
Nathula Pass trip, East Sikkim, a complete guide *Best time to visit *Weather *Visiting Days *Permit Cost *How to reach Nathula Pass *Tourist attraction. Read more
Author
Publisher Name
Publisher Logo