Getting Married This May? Sikkim Itinerary for 5 Days
Getting Married This May? Sikkim Itinerary for 5 Days
Sikkim is a beautiful state with pristine beauty and here lies the beautiful Mt.Kanchenjunga, the third highest mountain in the world.
The second smallest state is gifted with rough as well as snow-capped mountains, deep valleys, untouched dense forests, flowing rivers and white beautiful waterfalls. Sikkim provides beautiful landscapes as well as Adventures which would make a couple's honeymoon worth remembering. These are the reasons why the beautiful state of Sikkim ranks high on the list of beautiful honeymoon destinations in India.
If you are a newly-wed and are planning to visit Sikkim in May, Eastern India Holidays provide Sikkim holiday packages with a wide range of interesting options to choose from for your honeymoon. Here is an interesting Sikkim itinerary for 5 days which would roughly cover all the major sightseeing's in Sikkim and also be a visual treat worth remembering.
Sikkim Itinerary for 5 Days, Day 1 – Arrival in Gangtok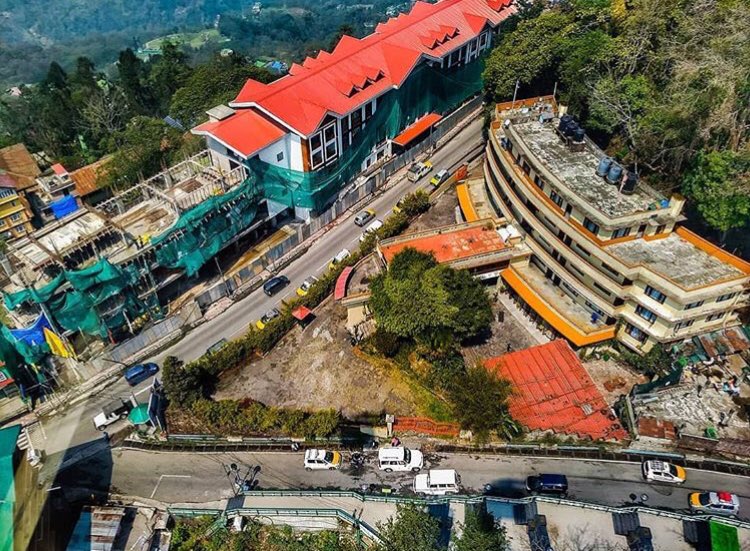 Upon your arrival at the Bagdogra Airport/New Jalpaiguri station, you can head directly to Gangtok which is approximately 126 km from Bagdogra and about 120 minutes from NJP railway station. If you wish to reserve a whole car for yourself, booking a Scorpio or an Innova until Gangtok shall cost you around Rs.3000. If you are comfortable with shared taxis, You could reach Gangtok at a cheap price of Rs. 250 per head.
You shall take at least 4 hours to reach Gangtok, the capital of Sikkim. You can spend your first day by strolling the nearby shopping streets as well as the hub of Gangtok, the M.G Marg. It is advised to not buy many items here as this would increase your load and your Sikkim trip could be more tiring than it is supposed to be.
Either side of the M.G marg is lined by a number of shops selling handicrafts, Pubs, Karaoke bars and tasty Chinese and local restaurants. After trying Thukpa and local momos, you could head back to your hotel to get some rest and prepare for an interesting adventure the next day.
Day 2  – Excursion to Tshomgu lakes and Baba Mandir
After waking up to a cold morning in Gangtok. Enjoy your flavored local tea and after breakfast, you can be ready for the East Sikkim visit. The east Sikkim is a beautiful snow capped hill which is surely going to thrill you with its beauty.
As we head up to east Sikkim, at a distance of 39 km from Gangtok, you shall witness Tsomgu lake at an altitude of 12,400 ft. This beautiful oval-shaped glacier lake is 1 km long and has a depth of about 50 ft. It is one of the few high altitude Himalayan lakes.
After this, if you drive further up, to an altitude of 13000 ft and 15 km away from the Tsomgu lake, you come across the famous BABA mandir with holds unique story behind its creation. It is said that an Indian Army sepoy named Harbhajan Singh died here some years ago and one day a fellow soldier had a dream with The dead soldier asking him to build a temple in his honor and so it was done. People have claimed on seeing a turbaned soldier along the border and the mandir is said to have healing powers too, a reason for its popularity.
A few kilometers away from the lake lies the Border, Nathula Pass, you can visit here but before visiting you are required to obtain a visiting permit from Sikkim tourism a day before the travel. This sums up your interesting day 1 and now you are headed back to your hotel in Gangtok where you call it a day and prepare for the next day.
  Day 3: Visiting North Sikkim also a Trekkers Paradise.
After breakfast, you are headed to North Sikkim, another famous sightseeing place. You head to Lachen which takes around 3 and half hours and the distance is around 109 km and checks into a hotel here for the night with a beautiful view around. It is a quiet and beautiful and rich with scenic beauty. It is the gateway and also acts as a base camp for trekkers of the North Sikkim and also is a gateway to Chopta valley and Guru Dongmar lake. It must be noted that you shall have to submit the necessary details to get a permit to travel to North Sikkim for some security reasons. Make sure it is done a day before your actual visit. Day two ends in Lachen because North Sikkim is impossible to cover in a day.
Day 4: Heading to north Sikkim towards Gurudongmar Lake and closing the day at Lachung.
Lachung, a small town in North Sikkim which has majestic mountains all around. #lachung #sikkim #mountains #hills #northsikkim #incredibleindia #sikkimtourism #hillstation #landscapephotography #travelling #travel #traveller #travelphotography #northeastindia #India pic.twitter.com/7K43uZ9w9h

— Amin Sheikh (@aminsheikh) April 4, 2018
In the morning you can drive until Thangu, around 31 km from Lachen. Going higher up you pass through the Chopta valley, which is also famous as the valley of flowers. The valley is tried to keep as much untouched as possible. You can stop by here to feel the beauty which is hard to find in this new world of pollution. If lucky you may witness few rare species of birds, plants and animals here.
After this, you head to an altitude of 17000 ft where you witness the beautiful and popular Gurudongmar lake. It is one of the highest lakes in North Sikkim. It is to be noted that due to security reasons, only Indian citizens are allowed here.
You shall end the day at Lachung.
Day 5: A quick escape before you head back home
A place pristine & serene:https://t.co/UECfRIMA3a
Known as the #Himalayan Valley of Flowers, Yumthang Valley is a hidden #paradise of natural beauty in the mountains of north #Sikkim. The Valley houses a unique fusion of flora, fauna and nature's spectacles.
PC: Meena Gurung pic.twitter.com/Xprp0kOCc1

— Budget Wayfarers (@BudgetWayfarers) April 17, 2018
You could wake up early and head to the Yumthang valley, the valley of flowers before you head back to Bagdogra/NJP for your return journey. Yumthang valley is a paradise for nature lovers with a beautiful blend of flora, fauna and breathtaking picturesque beauty. Rare flora such as Rhododendrons and primula picture the entire valley with beautiful and rich colors make it a great tourist spot. After you have felt Yumthang, You can head back to Siliguri after completing the Sikkim itinerary for 5 Days where you shall leave for your hometown with a lot of photographs and lots of cherished memories which are likely to stay with you a very long time.
Summary
Article Name
Getting Married This May? Sikkim Itinerary for 5 Days
Description
If you are a newly-wed and are planning to visit Sikkim in May. Here is an interesting Itinerary for 5 days which would roughly cover all the major sightseeing's in Sikkim and also be a visual treat worth remembering.
Author
Publisher Name
Publisher Logo